The query
Array
(
[0] => stdClass Object
(
[i] => Subject
[o] => plone.app.querystring.operation.selection.is
[v] => Array
(
[0] => Monthly Paper
)
)
)
Ordered by
effective

Formatted as
summary_view

---
These papers are primarily academic papers, and can be either working papers or published research.  On each paper we try to highlight how the paper may be of interest to our partner, or other industrial, audiences. Often the topic of the monthly paper will have an associated Podcast, Webinar and/or Blog for further clarification and dissemination to academic and industrial audiences.
The most recent released is listed below, with the following table showing previous papers released.
High Value Manufacturing (HVM) in the UK: Case studies and focus group insights by Luisa Huaccho Huatuco, Veronica Martinez-Hernandez, Thomas F. Burgess and Nicky E. Shaw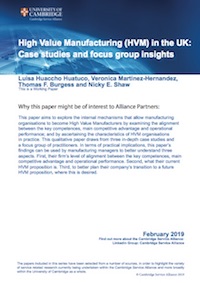 This paper studies the internal mechanisms that allow organisations to become High Value Manufacturing (HVM). Using a qualitative methodology, three UK manufacturing companies formed in-depth case studies with semi-structured interviews, observations and historical data. The HVM value matrix of Martinez and co-workers is used to categorise each organisation's value proposition. Wider benchmarking of the three organisations was carried out against a focus group with an additional seven manufacturing organisations. Thus, data from ten manufacturing organisations are included in this research. The cases follow the "customer intimacy" HVM discipline. The business processes supporting these value propositions were identified. Interestingly, each organisation's desired value proposition differs from their current one. "Technological integrators" predominantly rely on New Product Development (NPD) and Strategy processes, whereas "Socialisors" rely predominantly on Strategy and Customer Relationship processes. Companies can use the findings to better understand their current HVM value proposition and, where necessary, plan their transition to a future desired HVM value proposition.