Presentation of two awards for Journal of Service Research Paper to Dr Mohamed Zaki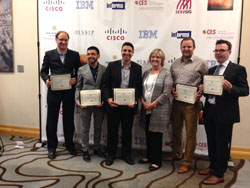 The first award for this paper was as a Runner-up for the AMA Best Services Article in 2014. 
The paper was also one of the four finalists for the Journal of Service Research Best Article Award for 2014.  The award is presented annually to the best article in the previous volume of JSR, as selected by the JSR Editorial Review Board. The award is sponsored by IBM-ISSIP and was announced and presented at the Frontiers in Service Conference in San Jose, CA, July 9-12, 2015.