Cambridge Service Week is a series of events hosted by the Cambridge Service Alliance to bring together leading academics, industrialists and policy-makers to address the evolving challenges facing service education, research, practice and policy.
Service Week 2017
Cambridge Service Week 2017 was held from 5-11 October 2017. It was a series of events hosted by the Cambridge Service Alliance to bring together leading academics, industrialists and policy-makers to address the evolving challenges facing service education, research, practice and policy. Details for individual events are below.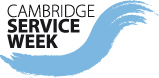 ---
Bridging to New Service Technology
Industry Conference
10 October 2017
The theme for this year was 'Bridging to "new" service technology'. 
Keynote speakers from Emirates airline, Alibaba, IBM and Thales joined forces with the Cambridge Service Alliance at this year's Industry Day Conference to speak about their own experiences of moving to a digital service strategy to show how they can create value through new technology now and in the future. While global companies are competitive by nature the keynote speakers shared some of their important industry experiences with members of the Alliance.
There were striking similarities across all the companies and sectors featured, with our speakers emphasising the need to create, capture and analyse data and to improve their platforms across their many different and diverse business streams that are responsive to the needs of their customers. 
Think "customer, customer, customer", was the advice given and putting customers first was a mantra that all had signed up to particularly as technology now allows consumers to give their customer feedback almost immediately and sometimes very publicly too. 
As digital technology overtakes old ways of working more firms are creating systems that are highly responsive and that can move goods from the factory to the consumer as soon as orders are placed.  Gone are the days when factories produced goods and sales forces waited to sell them. Now through the analysis of data, computing systems are sensitive to when orders are likely to come in and from where and in what numbers.
That change has happened because firms have looked at the data they have collected over the years and by carefully analysing what it says can see how to fine tune their business plans to serve their customers better and to respond to what they actually need and what they say.
Collaborations between firms has also helped to create more accurate planning and while competitors will still want to out sell their rivals, they are aware that there is an interdependency within their respective ecosystems which in turns means they need to be open to new ways of working and to learning the lessons others may have taken on board through trial and error.
Test, test, test and don't be afraid to fail isn't just phraseology taken from a business text book, firms know that they have to have eyes in the back of their heads to see what the next wave of innovations may be in their business streams and to be adopters of these new advances somewhere down the line. If they don't want to be first, then knowing when to enter the new markets that are developing and replacing the old products and ways of working will be a critical decision for them.        
Workforces too will need to be responsive to change, and perhaps employees too should keep an eye out for their next job which in all likelihood will have a very different job description from the one they undertake at the moment. They might even like to write it themselves with a foot firmly planted in the digital technology of the future.
Newer companies are more agile to technological change as they don't inherit old systems and working practices that will at some time need to undergo change. Compare Alibaba a Chinese company that is just 18 years old, to Emirates which is 32 years old and IBM which is just over 70 years old. But all agreed that the CSA Industry Day conference had allowed them to share and contrast different approaches to technological change and to take these on board.
Some had also underpinned their business strategies with values, with Alibaba saying it wanted to ensure the health and happiness of its consumers came first. While Emirates said that managers needed to be able to "trust the data" and forget their much "smaller brains" by comparison. 
More details of the keynote speakers are given below, including the presentations and podcasts from the day:
Speakers 
Christoph Mueller 
EVP, Chief Digital & Innovation Officer, 
Emirates Group
The Digital Transformation of the Emirates Group
Christoph Mueller joined Emirates Group in September 2016 as Chief Digital and Innovation Officer. Previously he has been Group Chief Executive Officer of Malaysia Airlines and CEO of Aer Lingus. Prior he held positions as Executive Aviation Director at Tui Travel plc. and was Group CFO of DHL worldwide and CEO of Sabena. He has also held senior management positions in Lufthansa, Daimler Benz Aerospace and Airbus. Christoph has been involved in large scale change management and turnaround projects throughout his entire career.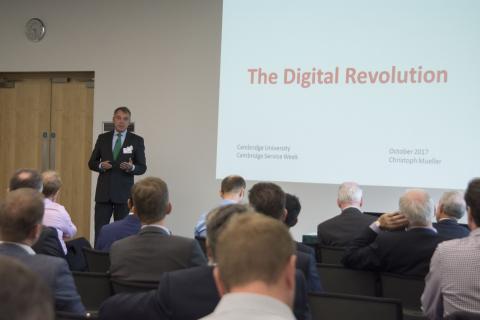 At the Conference: Christoph Mueller spoke about the vision of Emirates Airline, which aims to re-invent its processes using digital technology to enable a delightful travel experience. They are examining new technologies such as Artificial Intelligence and Real-time Analytics and ideas to identify the opportunities they represent for both incremental improvement and disruptive change in their business model. 
Podcast Interview:
Key Quote from Christoph:
"A modern aircraft Airbus 380 is so complex in its handling performance that without a computer helping the pilots to read the dials and giving the warning lights it is very difficult to fly it entirely manually. The same goes for managers in marketing and sales and pricing and management and in many functions in the company they simply have to use machines to process these billions and trillions of data to improve the decision making quality. The same goes for doctors today. We all benefit from the digital transformation. We have to be data driven to makes business more rationale and less emotional and I think that is for the benefit of the customer." 
Dr Ye Meng
Senior Expert,
Alibaba
Dr. Ye Meng is the Director and Senior Expert of Research Institute at Alibaba Digital Media & Entertainment Group. He is also the member of Global Future Council at World Economic Forum. Formerly, he was the Senior Expert of AliResearch affiliated with Alibaba Group. Prior to joining Alibaba, he was the Associate Research Fellow and Deputy Director of Information and E-commerce Research Division at National Academy of Economic Strategy of Chinese Academy of Social Sciences. His research interests include information economy, platform economy and governance, innovation and entrepreneurship and e-commerce service sector. He is the leading author of the following influential books, "China's Information Economy Development Trends and Strategic Choices", "The power of big data", "China's E-commerce Services Development Book", " The coming Data Technology Era" and so on.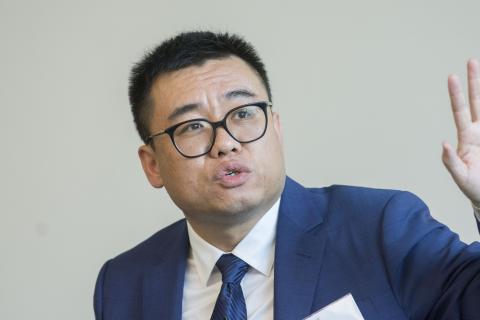 At the Conference Dr Ye Meng spoke on China's dynamics of digital transformation enabled by Alibaba and its ecosystem partners. He will also give an analytical framework and examples of digital transformation from the perspectives of new information infrastructure, new factors of production and new division of labour.
Presentation (to follow shortly)
Podcast Interview:
Extract from our podcast interview with Dr Meng:
"Manufacturing is going through a revolution. Several years ago we said made in Japan, then we said made in the UK, then we said made in China, but now we can say made on the internet because through the internet the manufacturing providers give their quick response to the consumer needs and through the internet they can get the most quick and accurate information from the conception side too. 
"We just provide the infrastructural services to help the Chinese SMEs and young talents and the big companies to be successful and we want to transform companies in other countries to be successful too.
"Our new economy is a trinity composed of the platform economy, the sharing economy and the micro economy. People will do what they want, they just want to realise their own dream in their life and so the work style or the employment form will change in the internet age. With the assistance of the platforms provided by big companies they can really find their talent and so get happiness from their work. We need to pursue our health and happiness from both sides." 
Interview with Dr Ye Meng (to follow shortly)
[transcript of the Podcast Interview - to follow shortly]
Martin Fleming,
Chief Analytics Officer and Chief Economist,
IBM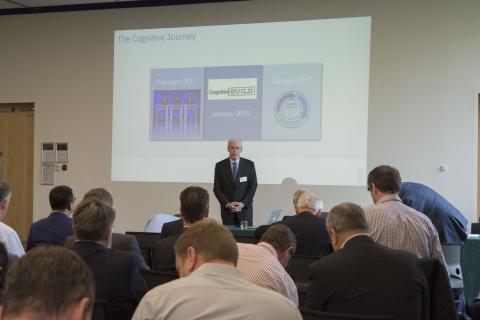 Martin Fleming is IBM's Chief Analytics Officer and Chief Economist.
As the Chief Analytics Officer, Martin leads IBM's initiative to become the world's premier Cognitive Enterprise. A Cognitive Enterprise is a business model transformation that employs machine learning, artificial intelligence and cognitive systems to improve decision making and, as a result, financial performance. The Chief Analytics Office is a data science center of competency focused on improving IBM's business performance and achieving IBM's financial goals. As IBM's Chief Economist, Martin provides regular macroeconomic insight and analysis to IBM's senior leaders and engages withselect IBM clients to provide a view of the global economic outlook. Martin also leads IBM's data science profession with the mission to drive the growth and expertise of IBM's skilled data science professionals whose expertise will ensure success in the cognitive era. Previously, within IBM Corporate Strategy, Martin led IBM's Smarter Planet strategy development and execution with a focus on energy, climate change, transportation,water and Smarter Cities. Prior to joining IBM, Martin was a Principal Consultant with Abt Associates, Cambridge Massachusetts. He was also Vice President, Strategy for Reed-Elsevier, Inc., the Anglo-Dutch information company. Martin began his professional career at the System Dynamics Group, Alfred P. Sloan School of Management, Massachusetts Institute of Technology. Martin's work has been published in a number of professional journals and general interest publications such as The Economist, the New York Times and the Wall Street Journal. Martin has testified to various US Congressional committees, including the Joint Economic Committee. Martin is an active member of a number of professional associations and is the current Vice Chair of the Conference of Business Economists. Martin holds a Ph.D. and an M.A. in Economics from Tufts University and a B.S. cumlaude in Mathematics from University of Massachusetts Lowell.
At the Conference Martin spoke about how using machine learning, artificial intelligence, and deep learning can not only systematically inform decisions, it can enable greater innovation and creativity. Learn how IBM tackles these challenges as its enterprise transforms for the Cognitive Era. IBM will share its perspective on the art and science of powerful decision-making with data.  
Presentation:

Podcast Interview:
Extract from the interview with Martin:
"We are ingesting large amounts of unstructured data and IBM, in the course of business, in addition collects large amounts of structured information as well and so we are using the Watson data platform to be able to digest all of that information and to bring it together in an organised format and to bring it to the compute capability that we need to access the Blue Mix and the Watson APIs.
"It is transformative and this way at the end of the day we want to communicate improved business results and to meet the newly emerging needs of clients whether internal or external. We are focused on 19 different business processes and these are being transformed to make the processes more streamlined and to produce better and more effective results and to help to make our teams more productive so that they can focus on the high value work that they need to do."
Sean Perry-Evans,
UK Services Development Director,
Thales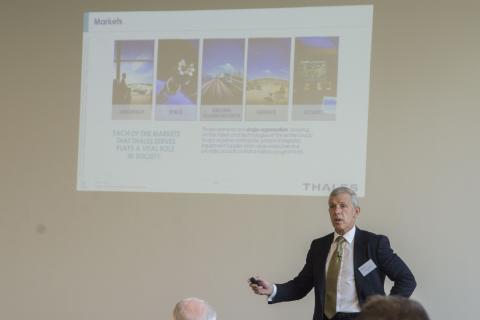 Sean Perry-Evans joined Thales UK in June 2014 as the UK Services Development Director. He has responsibility to grow the Thales UK presence in managed services in the markets the organisation serves in the UK. Sean joined directly from Airbus Defence and Space where he had been the UK Head of Sales for what had been the Cassidian business. Previously, he was the Group Head of Sales at Babcock International Group and Sales Director of the Support Services Division which principally comprised the VT acquisition of 2010. During his time with the business, win rates improved across all value bands and sales targets were over-achieved. Sean spent over five years working with Serco Group initially on very large captures in UK and Middle East, and subsequently as the Group Head of Sales.  After Serco bought ITNET in 2007, Sean was part of a central team tasked with ensuring successful integration into the core business. He was then head-hunted into the Central Government business of Fujitsu Services before moving to Babcock in 2008. Prior to his current career, Sean was a Marine Engineer Officer in the Royal Navy for 24 years. One of his last jobs was on loan in Oman, where one of his daughters was born. Born and educated in Plymouth, he has an honours degree from the Royal Naval Engineering College and an MBA from the Open University.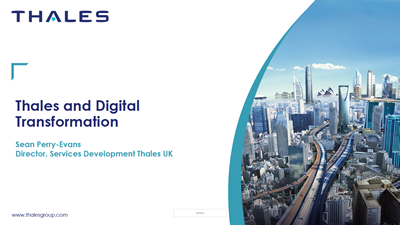 At the Conference Sean Perry-Evans spoke about the Thales' digital transformation vision, which they believe will transform the markets they serve (aerospace, transport, defence and security) and improve the digital future for their customers, by solving the challenges they face. Sean will speak about digital transformation and the newly established digital factory in a company guided by product policy, and will illustrate with cases from the business portfolio.
Podcast Interview:
Extract from the interview:
"The Digital Culture Manifesto is a term we use. We are a process led organisation that comes out from being led by the product policy and so the product is the king and the policy around the product is king and that particular culture is hard to shift. We have processes, a centralised business management process and a system which drives that whole troll culture so you follow the process. You know how to do it and that is what you do.
"What we want to be able to do is to allow people to have more agility to have more ability to think and to respond to what the customers want. If we are going to do that we can't necessarily do it by applying our processes.  We need to be more agile. We need to flex the boundaries of the process but make it a little bit more able to respond to the customer need and that is going to be a challenge for us. Engineers need the process to ensure that the engineering design follows particular lines and criteria but we need to make sure the overall capability we generate from our design work is something the customer actually wants."
Dr Mohamed Zaki,
Deputy Director,
Cambridge Service Alliance,
'Customer Experience Analytics'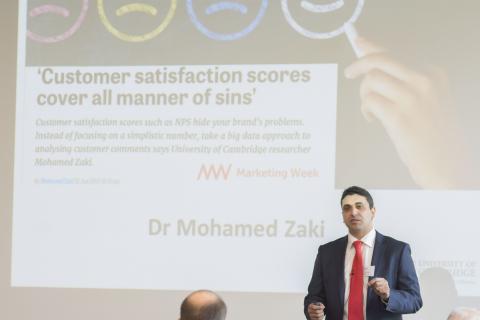 Mohamed Zaki is the Deputy Director of the Cambridge Service Alliance. His research interests lie in the field of Big Data advanced modelling and its application on Digital Manufacturing and services. His research uses an interdisciplinary approach of data science techniques to address a range of real organisations' problems. Mohamed is a research manager and co-investigator in many UK research councils projects (EPSRC/ESRC) and industrial research projects sponsored by big organisations such as IBM, BAE Systems, Caterpillar, Rolls-Royce, Zoetis, Pearson and GEA. His is also a core academic member in the Cambridge ESRC Doctoral Training Partnership (DTP) and the EPSRC research network- Consumer Goods, Big Data, and Redistributed Manufacturing (RECODE). In addition he is a recipient of an international award from the Marketing Science Institute on customer experience analytics. Mohamed has many publications in highly ranked journals, including PloS ONE, Journal of Service Research, International Journal of Operations and Production Management, Journal of Service Marketing as well as many conference articles.
At the Conference Dr Mohamed Zaki spoke about his recent research on how machine learning can be applied to customer experience analytics. This enables organisations to design and manage unique experiences for its customers and analyse feedback in a timely manner. The toolkit introduced allows utilization of existing qualitative and quantitative data and can result into specific actions being taken to increase customer satisfaction and reduce friction in doing business.
Presentation: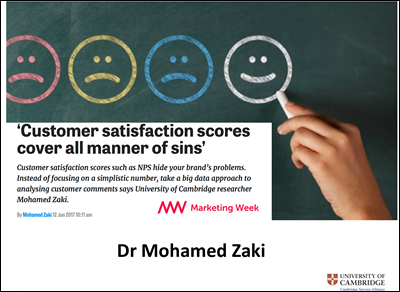 Podcast Interview:
Extract from the podcast interview with Dr Zaki:
"What we try to advise here is that actually you can capitalise on the data that you have in your business, the attitudinal data, and the behavioural data to allow you to understand your customer better. One of the key things to come out is that predicting a promoter customer is quite difficult but predicting a detractor and risky customer is quite easy. One of the things we found from the computer learning is that it is also important how you rank your promoter customers, not all their monetary contributions are similar. It is wrong to classify your customers into these three categories there are degrees in promoters, there are degrees in passive there are degrees in detractors." 
---
Partners Day - Wednesday 11 October 2017
New Insights from the Cambridge Service Alliance
This executive workshop provided new insights and practical tools for those concerned with developing innovative solutions and delivering them through ecosystems. The workshop drew on research completed by members of the Cambridge Service Alliance, who presented exploitable tools and techniques that attendees can use in their businesses.k
---
Academic Conference - 5 - 6 October 2017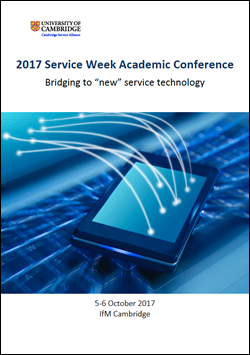 On the 5-6 October, the Cambridge Service Alliance hosted an academic conference with key academic experts from around the world. Experts and academics reported on their recent research developments in the field of Services, particularly on the Bridge to New Customers Experiences, Service Growth in Product Companies, Smart Service and Service Analytics, Customer Journeys and Service Research at the Base of the Pyramid. Our partner Dav Bisessar from IBM joined the conference in purse to build strong bridge between Industry and Academia in this Conference. Interesting debates and discussions from operations, marketing and strategy converge in support for building a better world with the support of Services. The outputs of this conference are to be published in the INFORMS Journal of Service Science. 
Click here, or on the image, to view the abstracts presented during the two day event.