'Business model innovation' became one of the most popular buzzwords, used to depict firms such as Amazon, Google or Ryanair, who have created entirely new markets or disrupted the existing ones achieving at the same time stellar financial performance. While substantial interest exists, we know very little about the 'recipe' behind these successes. The research of the Business Models theme investigates which future business models will best enable firms to create and capture value, it explores the key determinants of a successful business model, and examines how complex service firms in particular discover, develop and implement business models effectively.
In 2011 we conducted a number of case studies to understand business model innovation of selected service providers.  This resulted in a business model framework for complex service providers that has been featured in the practitioner paper 'From Processes to Promise - How complex service providers use business model innovation to deliver sustainable growth' and academic paper 'Business model Innovation of Complex Service Providers: A Quest for Fit'. Both contributions have been presented at a number of practitioner and academic conferences; at the Strategic Management Society conference in November 2011 in Miami, this research has been shortlisted for the SMS Best Conference Paper for Practical Implications Prize.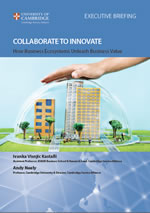 Building on these milestones, we have developed our understanding of what business model innovation is, by switching the level of the analysis from a single service provider to the ecosystem level in order to better understand the innovation process of complex services through the case study research of cutting-edge innovation ecosystems.  This project, lead by Ivanka Visnjic, looked to the most complex ecosystems of all – the business ecosystems of cities. We examined three cities, Vienna, London and Chicago, chosen because of their reputation for success and innovation relating to quality of life and a thriving economy.  What we found was that while these ecosystems and the players within them were complex and diverse, in essence they boiled down to four role types - resource providers, problem solvers, constructors and architects. [more]
Another parallel research projects this year aims to strengthen our knowledge of the capabilities that Business-to-Business service providers need to transition from the product-driven to a service-driven business model. This project, led by Taija Turunen, builds directly on the findings published in the 'Process to Promise' White paper. Besides strengthening the knowledge of the business model innovation capabilities, this research project will allow us to get closer to the business needs of our partners and develop tools that help them in designing and implementing effective business models. Tools and models for service business capability development are being developed in close collaboration with our business partners and associated organizations.
The research has been carried out in the form of 4 separate case studies in Nordics. The research findings start to emerge around ecosystem dynamics and the changing nature of these when companies strive towards greater service dominance. In addition, a case study research report has been completed into the identification of elements of successful business model innovation in electric vehicle ecosystems.
The aim of this case study research project is to define barriers and enablers of value creation and capture in early electric vehicle (EV) ecosystems.  This research will identify the elements of successful business model innovation: value propositions, profit and loss structures, key partners and customer segments. [more]
Output: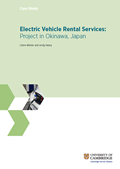 Case Study - Electric Vehicle Rental Services: Project in Okinawa, Japan
Claire Weiller and Andy Neely
Podcast interview with report author, Claire Weiller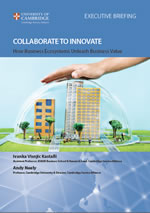 Executive Briefing - 'Collaborate to Innovate - How Business Ecosystems Unlease Business Value' 
Ivanka Visnjic Kastalli, Andy Neely
Podcast interview on this report

Executive Briefing - 'When Innovation Follows Promise' - Why service innovation is different, and why that matters
Ivanka Visnjic, Taija Turunen and Andy Neely
Podcast interview on this report


Case Study Report -  'E-Mobility Services: New economic models for transport in the digital economy' Claire Weiller, November 2012
 Podcast interview on this report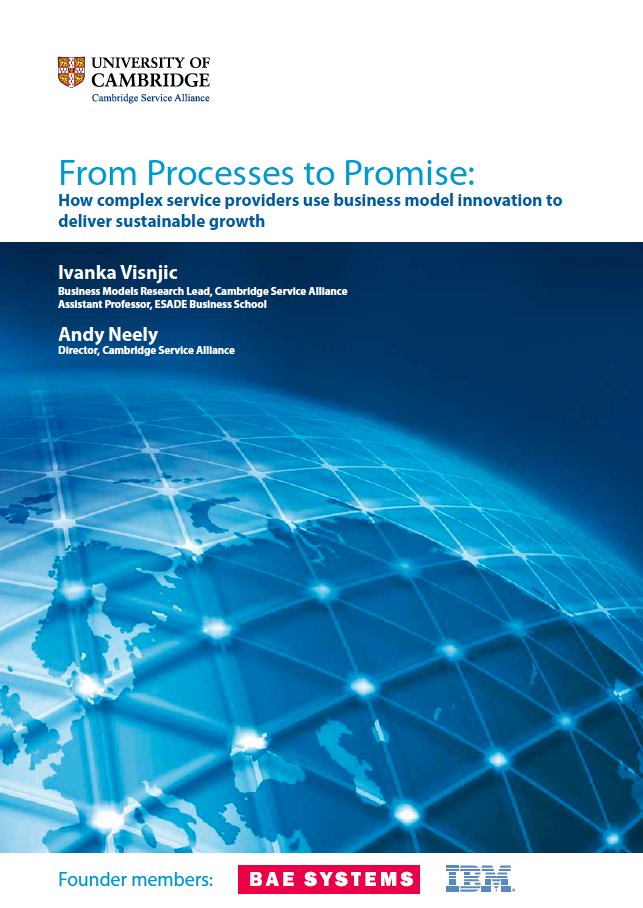 White Paper- 'From Processes to Promise - How complex service providers use business model innovation to deliver sustainable growth' Ivanka Visnjic, Andy Neely, Cambridge Service Alliance, September 2011
Researchers: