In a new series of podcasts from the Cambridge Service Alliance key speakers discuss their presentations from our one-day conference in October 2016 on 'Growing your service business in an age of digital disruption'.
We live in an age where firms are moving from traditional business models of manufacturing to those based on suppling both equipment and services, often through platforms and the internet, thereby cutting down on the need for a physical presence. These new businesses are often working globally to improve, change and also disrupt what long established companies are doing.
In this new era of the platform businesses such as Uber, YouTube, Facebook, Airbnb, and China's Alibaba, working in their respective sectors of travel, news, entertainment, leisure, and retail, senior managers in more established firms know that they have to act quickly to latch onto the ideas and presence of others who are already challenging the dominant market leaders in their fields. They will need to both collaborate and compete with these new digital enterprises to ensure that the firms they work for still exist in a few years' time and remain profitable.
The costs of market entry for the new digital start-ups are now a fraction of what they would have been when plant and equipment was more costly, but knowing when to move your business forward, and what your focus should be will require a very cool head in a world which is more networked but also a lot more complex than before.
One thing is certain. The company that switches on to providing both services and products will create far more customer loyalty and a longer term relationship than one which simply sells a product and moves on to the next customer. Finding out what your customers' customer needs are, and the problems that they want solved, and how you can help them solve these is the smart way manufacturers are now working.  
Working with industry the team of academic researchers at the Alliance have created 'Seven Critical Success Factors in the Shift to Services', which provides an essential guide and road map for businesses wishing to be both manufacturers and service providers in a fast moving digital age. Here we give you key quotes from our guest speaker podcasts:
Professor Andy Neely, Director of the Alliance and Head of the IfM.
"There are challenges around scaling up. Often particularly in services, people don't go beyond the piloting stage, this is one of the bits of research we have seen. People will offer a new service, they will do that successfully, but when they come to offer another service they will almost start it like a new business and then they fail to see how they can optimise the existing service. They treat each one as a new experience. I think that this is an issue. Firms  are thinking differently, particularly in the digital World, thinking about what opportunities digital technology opens up, and how they can create value for customers and indeed how they can define their customers. I think this is a really important lesson. You also need to think as you scale up how you are going to disrupt your own business. Uber talked about how with UberPOOL  – this is the notion of shared rides – they are deliberately trying to disrupt UberX – the single person in the car – service. They are also already thinking about using autonomous vehicles as a way of disrupting UberPOOL. Uber is constantly challenging its own business model and saying how we can disrupt ourselves. I think large established businesses need to go through that same thinking and constantly look at how they are operating to disrupt their own models today, to make it better for the future. That's what enables you to successfully scale up and survive".
Brian Holliday, Managing Director for Siemens Digital Factory, Siemens plc.
"From an engineering perspective, you used to have serial processes which were linear, but now, with the digital twin, you are building a complex model collaboratively. You have got people working at the same time on the same data in a collaborative product management sense and by painting a rich and complex picture of the device you are able to view it and bring it to life. You can isolate its characteristics and think about the materials or the suppliers, or you might test it in ways virtually that simply wouldn't have been possible with earlier methods. You can virtually prototype your products so you can get much closer to having a near to market product designed and built from those virtual models. The digital twin concept is also valid when you take it into the plant. As manufacturers, we have to think about the best way to lay out the factory, and we will need to look at a number of scenarios, but now we can digitise the factory and the data into the model and run these before committing to changes. The digital twin concept is exciting, whether it is the product, the factory or the service you are offering. For design, make and service the digital twin is genuinely exciting."
"I think there are a number of models where we can take technology, look at what the customer is doing, and wrap it up as a service that means we can make progress. It is because we have a reasonable understanding of what the technology can do in an industrial application for them. The CSA Seven Critical Success Factors, have been helpful to us because they have been derived from industrial experience and I can see that they are up to date in their thinking. The CSA has considered a number of the practical challenges that you would have encountered in servitising your business, and for companies like ours, which largely have a product they wish to sell but increasingly needing to differentiate themselves through service, what the CSFs highlight is that you have to think about assessing your market and your internal readiness and creating the right culture and structures. Then you have to ensure you have the resources to do it. These are all key if you want to avoid the bumps in the road ahead." 
Per Stjernqvist, VP, Servitization & Solutions, Trackunit A/S
"When you enter a new area where nobody has been before, you cannot up front come up with a perfect solution, you need to test, test, test, and fail during that process. Software development and services, you need to develop at a different pace and allow yourself to fail, which is not always the case with a prototype of a hard product or machine. It is much cheaper to fail with software, and you can fail many times because the costs will be low.  The pace of change we see is exploding, but we are seeing so many retrofit solutions. It will be a standard option that every machine that leaves the factory in the future will be fitted with Telematics and the costs will be low."   
Fred Jones, General Manager, UK Expansion, Uber
"Ultimately we have built a logistics platform. We want to give our customers and our consumers what they want when they want it. You can get a ride with us at the touch of a button. Now with UberEATS you can get restaurant food delivered to you in a matter of minutes. UberRUSH helps with last mile logistics for small businesses.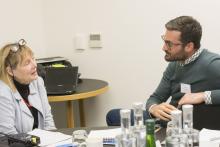 You can see how we can take the concept of Uber much more broadly. We often have a bit of fun, and one of our stunts is UberIceCream. Because we are a market place we work really hard on keeping our partner drivers efficient, so the busier they are the more they can make and it makes the service more affordable to lots of riders, and the more affordable it is the more people will use it and the busier our drivers will be. It is an advantage to both the customers and the partner drivers.   
"If you speak to any private hire and taxi driver they will tell you the thing they fear most is dead mileage, sitting around and doing nothing, not making money or driving a long distance to pick up a fare.  By working really hard to reduce that dead mileage and dead time by keeping our drivers busier on the platform that is where we can get the real benefit, at the margins. That is where we focus much of our attention and engineering effort."
Dr Martinez, Senior Researcher, Cambridge Service Alliance
"What we observe in our research at the Alliance is that organisations are taking a more pro-active part in the piloting and scaling up of their businesses. This is important. How do you build the leadership and team in order to create and enable the scale up of your services? People like to have the pointers and see what they can do better in order to scale up. There has been no literature or tools developed to scale up services. At the Alliance we are one of the first in the World to develop methodologies to help companies to scale up their services with our Seven Critical Success Factors."
You can also listen to the Compilation Audio Documentary with Andy Neely narrating the day's events:
You can read the report of our Conference in the national media http://www.standard.co.uk/business/anthony-hilton-britain-is-suffering-because-politicians-don-t-get-tech-a3367406.html