Mohamed Zaki, Philip Woodall and Andy Neely recently ran a workshop on Manufacturing Analytics: The role of Big Data in the Future of Manufacturing. The workshop was held at the Institute for Manufacturing (IfM) on 1 February 2016 and was funded by the Cambridge Big Data-EPSRC Collaborative Workshops Fund.
Representatives from a range of UK manufacturing and technology sectors (SME and established companies), research councils and academics attended this workshop. The morning session had four speakers:
In the afternoon, the delegates split into four groups to discuss: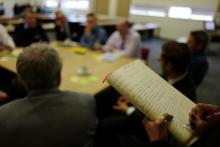 What problems in manufacturing organisations could analytics potentially solve?,

What are the main barriers that prevent manufacturers from using analytics?,

What technologies and ICT infrastructure do manufacturers need to enable analytics?,

W

hat are the potential new manufacturing business models that analytics could enable?.
A representative from each group presented back their group views about these questions. At the end of the day, we had a panel session to discuss general issues about the role of data in manufacturing. The outcome of this workshop will be a working paper, that should be released in May.